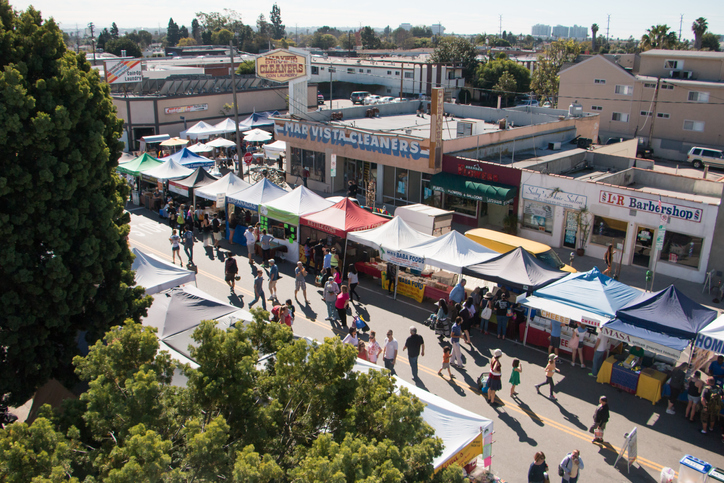 With the recent exciting developments in the neighborhood of Mar Vista, more and more people are discovering this low-key community's distinct charm and attractions.
Tucked between Venice and Culver City, Mar Vista has lately seen big improvements in its road design, as well as the emergence of hip new restaurants, cafes, and shops.
Check out some of the must-visit places in this hidden LA gem.
The Mar Vista restaurant

12249 Venice Boulevard
310-751-6773

The Mar Vista took over the space of the shuttered Good Hurt bar and transformed it into a welcoming neighborhood restaurant with a large, open dining space. The casual atmosphere is the perfect backdrop to the creative seasonal dishes that make up the restaurant's "progressive Los Angeles cuisine."Among the menu items to try are the bay scallop ceviche, the black rice and farro hot soup, and the cranked bowl for dessert.

Little Fatty

3809 Grand View Boulevard
310-574-7610

Formerly Status Kuo, Little Fatty is a neighborhood hub serving delicious Taiwanese comfort fare. Finding inspiration from the food he's most familiar with, chef/owner David Kuo puts his own spin to Chinese takeout classics like kung pao chicken and walnut shrimp, as well as all-time favorites like dim sum, congee, and beef noodle soup.

Accomplice bar

3811 Grand View Boulevard
310-574-7610

Adjacent to Little Fatty, accomplice is a hip cocktail bar that serves classic drinks,as well as their very own creations. The futuristic décor is enough reason to go see this place, but the excellent and affordable cocktails, wines, and craft beers are the real attractions here.

Vintage on Venice

12218 Venice Boulevard
310-302-7537

This Mar Vista staple has an expansive selection of vintage items, from clothing and accessories to furniture and kitchenware. If you're looking for unique décor, rare midcentury furniture, or stylish vintage wear, this is the place to go. New items are brought in regularly so there's always something different to look forward to.

Tortoise General Store

12705 Venice Boulevard

Another unique Mar Vista staple, Tortoise General Store carries a curated selection of Japanese-inspired homeware, furniture, artwork, vintage pieces, and more. The store's merchandise reflects its commitment to a slow and steady life, and shopping here is a relaxing treat. It includes a showroom featuring the exclusive Hatami Porcelain Ceramics line by store owner, Taku Shinomoto.

Mar Vista Tract

3533 Moore Street

The first designated historic district in Los Angeles, Mar Vista Tract features 52 excellently-preserved homes in the Mid-Century Modern style as envisioned by renowned architect Gregory Ain. Ain believed modern architecture should improve people's lives and be available to everyone, and his collaborative design for the homes in Mar Vista Tract best exemplifies this philosophy. Integral to the tract's iconic design is the park-like landscaping that makes use of various trees and plants and includes garden spaces between homes.

The Mar Vista Farmers' Market

3826 Grand View Boulevard

Considered one of the best farmers' market in LA, the Mar Vista Farmers' Market is the place to go not only for farm-fresh produce and sustainable meat and fish, but also for rare treats like organic chocolate goodies, artisanal cheeses and yogurts, gourmet Korean food, and more. The market also includes artist stalls selling jewelry, pottery, and other handcrafted products. It opens every Sunday at 9 AM.
Looking for Mar Vista homes for sale? We're the Realtors to call.
Get in touch with us here or call us at 310-922-9175. You can also send an email to greetings(at)geretzteam(dotted)com
.