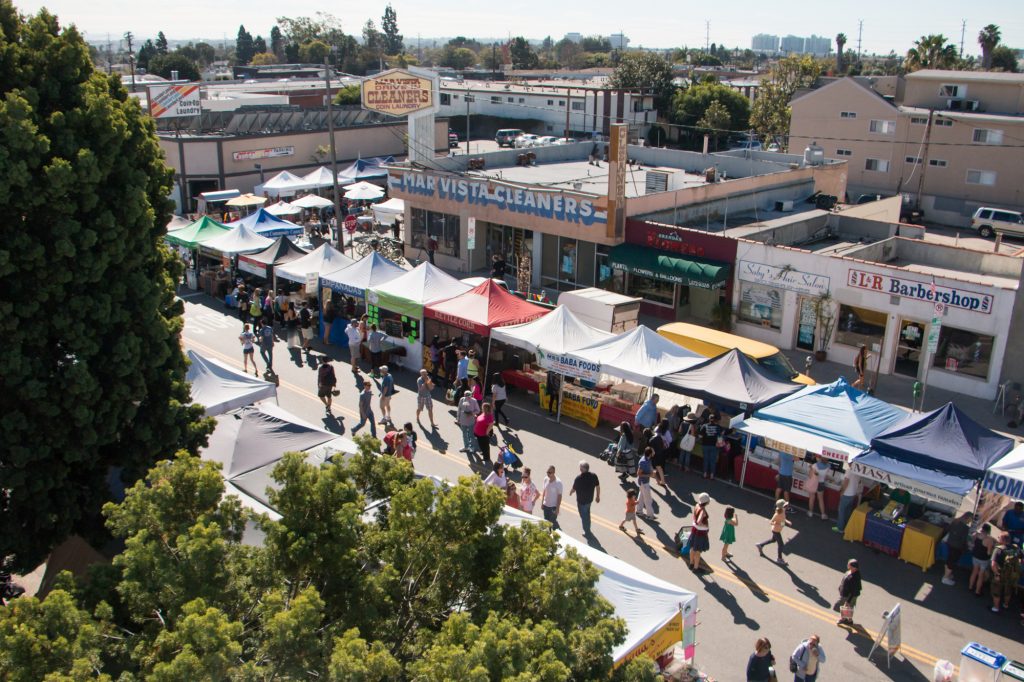 In the early 1900s, the neighborhood of Mar Vista was mostly agricultural land with acres of lima bean fields. Today, it has become one of the most sought-after communities in Los Angeles' Westside; a rare gem that has retained much of its suburban, neighborly feel amid rapid urbanization.
Mar Vista is a family-friendly neighborhood with top-rated schools and a number of parks and recreations centers where residents of all ages can enjoy various activities. Community amenities are highly accessible by foot, and the tree-lined streets give off a welcoming, serene vibe. The area boasts fantastic views of the Pacific Ocean and enough elevation to escape the fog that often blankets the city. Its ideal location puts it just minutes away from LA's famous beaches and world-class shopping and dining.
Community spirit is alive and well in Mar Vista. There are many long-time residents and neighbors know each other. Cozy coffee shops, serene parks, and a weekly farmers' market are the community hubs. The small downtown features excellent restaurants, shops, and a few bars, housed in mostly older buildings that give the area a quaintly charming feel.
Real estate and homes for sale in Mar Vista
The homes in Mar Vista are a lively combination of the old and the new, giving homebuyers a wide range of options. You will find larger-than-average properties built in the 1950s and newer ones constructed from the 2000s to the present. With increasing demand for housing in the neighborhood, Mar Vista has recently seen quite a few construction activities, particularly for multifamily residences.
Single-family homes still dominate the housing stock in Mar Vista. Many are older tract and custom homes built in classic styles like Spanish Colonial, Craftsman, and ranch. Newer properties boast a variety of architectural styles, including contemporary and neo-traditional. Whether old or new, many of these homes feature spacious yards with charming landscaping.
The multifamily homes here are also a mix of older and newer properties. There are townhomes built in the mid-1900s, as well as more recent low to mid-rise condominiums and townhomes. These properties feature spacious living areas and the most up-to-date fixtures and facilities. Investors will find a number of older multifamily homes with excellent redevelopment potential.
Homes in Mar Vista come in a wide range of prices and sizes. While property values have been consistently rising, they are still generally lower than in most parts of Los Angeles, making the community one of the hottest in the market.
Attractions and things to do in Mar Vista
Mar Vista Hill – With an elevation of 200 feet from the basin, this historic hill offers stunning views of the ocean, mountains and the city. The mesa has seen various transformations – from farmland to city dump to anti-aircraft artillery battery. Today, it is the site of the North Venice Little League Park and the Ocean View Community Garden.
Mar Vista Certified Farmers' Market – Open every Sunday from 9 a.m. to 2 p.m., the farmers' market features fresh produce and farm items from all over California. A food emporium is also part of the event, offering everything from Chinese dumplings and BBQs to vegan fare and international street cuisine.
Mar Vista Recreation Center – Located at the intersection of Palms and Sawtelle, this community facility offers a host of facilities and activities, including a roller hockey rink, sports fields and courts, a gymnasium, 4 picnic areas, and a playground. The center also offers various programs, including a PreSchool Fun Class and youth sports leagues.
Looking for a home in Mar Vista? Give the Gerez Real Estate Team a call at 310-922-9175, or send an email to greetings(at)gerezteam(dotted)com.
Sorry we are experiencing system issues. Please try again.