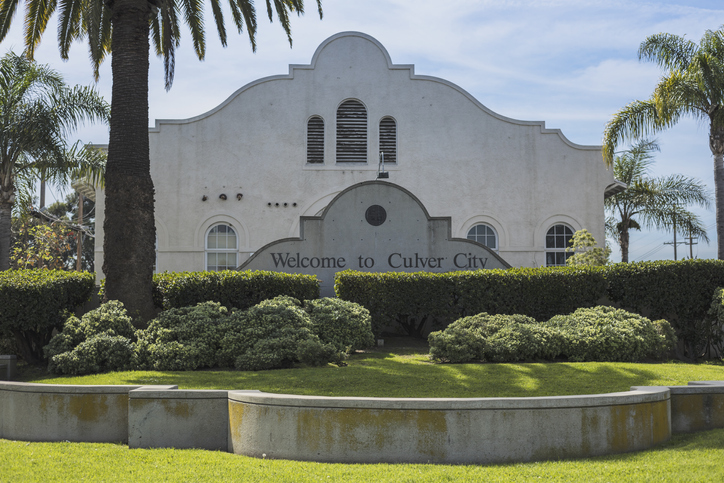 In addition to landmarks that showcase its long-time affinity to show business, Culver City, LA boasts a diverse range of attractions, from outdoor destinations to upscale shopping centers.
Living in Culver City, you'll never run out of things to do or places to see. Here's our pick of the top attractions to visit in the city.
The Culver Hotel
9400 Culver Boulevard
310-558-9400, 1-888-3
Opened in 1924, the Culver Hotel has hosted many Hollywood legends and other prominent figures in American history. Plenty of trivia surrounds the hotel, including rumors that Charlie Chaplain, who once owned the establishment, sold it to John Wayne for a dollar in a poker game.
The hotel started to deteriorate in the mid-1900s but was restored to its old glory in the 1990s. Now listed in the National Register of Historic Places, the Culver Hotel is a swanky place to book visiting friends and family, and a great place to unwind. The grand lobby will take you back to the golden years of movie-making with its period-inspired furniture and décor. The hotel's Velvet Lounge is a throwback to the elegant speakeasies of the 1920s. The hotel is said to be haunted – an added bonus to those who love mysteries and ghost stories.
Museum of Jurassic Technology
9341 Venice Boulevard
310-836-6131
This fascinating attraction is housed in a low-key windowless storefront, disguising its treasure trove of unusual finds. The Museum of Jurassic Technology showcases rare scientific phenomena, strange events in history, odd art pieces, and other objects of curiosity that often blur the lines between truth and fiction. It's the only place where you can find exhibits on bats that can fly through walls, the history of trailer parks, sculptures that can fit through the eye of a needle, and other intriguing things all under one roof.
Sony Pictures Studios
10202 West Washington Boulevard
310-244-TOUR
Many people may not know it, but more movies were made in Culver City than its more famous neighbor, Hollywood. The "Heart of Screenland" is home to studios and soundstages where many of the biggest Hollywood movies were filmed.
One of these is Sony Pictures Studios, which is open for public tours from Monday through Friday. Formerly the MGM studios, Sony Pictures Studios features soundstages where iconic movies like Wizard of Oz and Singin' in the Rain, as well more recent blockbusters like Men in Black and Spiderman, came to life. You can also visit the studios of hit TV shows like Jeopardy and Wheel of Fortune.
Baldwin Hills Scenic Overlook
6300 Hetzler Road
310-558-5547
Take the 282 concrete steps up Baldwin Hills and get treated to stunning 360-degree views of the city below. The climb is an attraction in itself, especially for fitness buffs, and the views at the top are well worth the exertion. If you're not up to the exercise, you can drive up to the summit instead. The path going down is a paved driveway that requires less of a workout.
Platform
8850 Washington Boulevard
If luxury shopping is your thing, look no further than Platform. Located right at the heart of Culver City, this 120,000-square-foot shopping center is home to curated shops, restaurants, and services, including everything you need for a complete wellness lifestyle. You'll find high-end brands for clothing, home décor, accessories, and more, plus charming cafes and restaurants.
As residents of Culver City for over 40 years, we know this area by heart.
Get in touch with us here for your real estate needs in the city. You can also call us at 310-922-9175 or email greetings(at)gerezteam(dotted)com.